So, what is this "Contra Dancing?"
Contra dance is a beginner-friendly form of social dance that is non-competitive, moderately aerobic and highly addictive. As a group, our main goal is to have fun rather than to be perfect dancers. We consciously welcome dancers of every skill level. I hesitate to go beyond that description except to invite you to try it.
Gary Shapiro has a variety of descriptions to choose from:
http://www.sbcds.org/contradance/whatis/
And our friends in Canada have posted an FAQ:
http://www.hamiltoncontra.ca/primer.html
Here's one more verbal description of the allure of contra culture:
http://www.thecommonspace.org/2002/06/games.php
Or perhaps a picture is worth some words: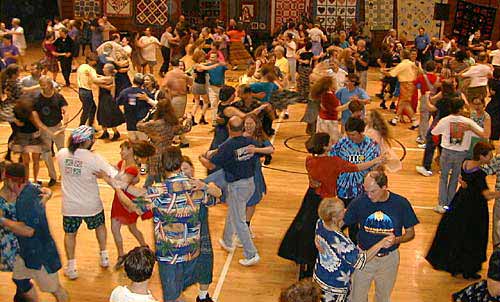 Atlanta Dance Weekend
At first glance, chaos. But then one begins to notice patterns.
What about Videos?
All the best videos are copyrighted, but here are some publicly available videos. The sound and video barely capture the fun of actually dancing, however.
Here are some links to videos to give you a better picture, beginning with those young whippersnappers at Whipperstompers 2008:
http://whipperstompers.org/
George Marshall calling, Swallowtail playing, and some fun fun dancers on the floor in Glenside Pennsylvania:
http://www.youtube.com/v/4G2DmPRIALc&hl=en&fs=1
Here's a cool balcony view in Lexington Kentucky:
http://www.youtube.com/watch?v=XN-gAQi6pkE
Here's a big crowd at Dance Trance 2007 in Lexington Kentucky:
http://www.youtube.com/watch?v=leE3tZBTkFs
And a scene from Spring Breakdown 2008 in Columbia Missouri:
http://www.youtube.com/watch?v=DHvQozKfCDE&feature=related
Where do nearby dances happen?
In Maryville
In Kansas City
In Lawrence
Throughout Missouri
Throughout Kansas
Throughout Iowa
Throughout the U.S.: http://www.contradancelinks.com/
A clickable map: http://www.contracorners.net/contra/links/dancemap.html